FAQs
Top 10 Frequently Asked Questions
How quickly can you manufacture?
We understand the nature of the Aviation Business and how it works...we work to your deadlines and AOG requirements, we operate for our customers 365 days a week 24 hours a day.
Can you provide Dual language placards and signage?
Absolutely! We are completely tailored particularly to the Aircraft Leasing market and we can provide fast turnaround dual language kits...in short if he can speak it, we can make it. We already have a vast library of dual language placards from Burmese to Bulgarian and Chinese to Chechen!
Do your interior placards comply with Burns Test Requirements?
Yes! We provide Fire Test Reports with all interior placards and we use the very latest Lexan materials that pass all burns test requirements. We also supply Certificate of Conformity with all products.
Can you provide EASA form 1?
Yes we can if requested, generally speaking this is not required with 99% of our customers but if needed for particular projects we can achieve this, it just adds obvious time and costs to the project.
Who are you approved suppliers to?
Many Airlines, MRO's and Lease companies worldwide but to name a few of our bigger customers: Lufthansa Technik, Qatar Airways, Aer Lingus, Aegean Airlines, Gulf Air, Virgin Atlantic, AerCap / ILFC, GECAS, BBAM, XL Airways, Air Corsica, Air Asia, VietJet, Jetstar Pacific...plus many more upon request.
Can you provide electronic images of your placards?
Yes! We have most of our aircraft kits in electronic format that we can send to you as a catalogue prior to production for your final verification. We can also customise your kits as we know each project is unique.
We need to incorporate the placard images into our EO. Can you assist?
Yes we can produce a drawing sheet of each placard including all details such as size, colours, text info etc.
We have a requirement for a large exterior graphic on an aircraft and it's urgent. Can you help?
Yes! Contact us! We are the most reactionary company in the business. We can fulfil your requirements as you need, in most cases we can physically be onsite and fitting the livery for you within days of our first contact.
Do you use approved materials?
Generally speaking we work to your spec, but we 100% use high grade 3M products for all our products.
How do you compare to your competitors?
We are the best! Simple! We can supply references by many satisfied customers. Our goal is to build lasting relationships so our customers return again and again!
A different way of looking at things: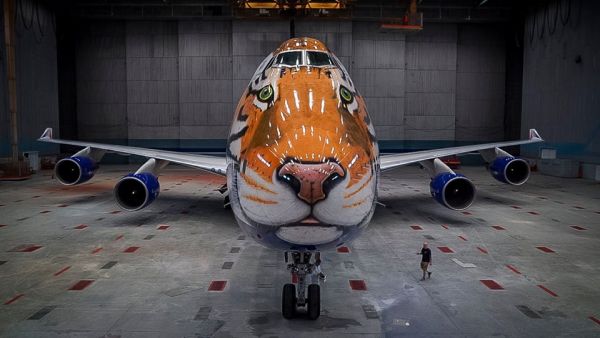 Our talented colleagues David Nolan and Luke Bryant at work.
See how one of our customers goes about designing, scheduling and implementing an aircraft marketing wrap.
Announcing our new range of seat tray decals. Printed and cut exactly to your requirements. Call for more details.
What are they? Well, they're like billboards, but on the overhead bins! Revenue generation from otherwise unused space.